About Me
Connect whichever way you like! Simply click icon below.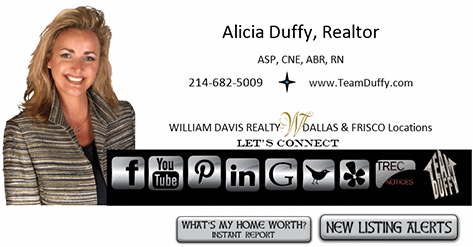 REAL ESTATE:
I started my career in real estate in 1998 at RE/MAX where I continued until 2010 when I moved to William Davis Realty. My business is handled by always being ethical and up front about your future. If you are selling, my proven marketing techniques will get you the right buyer in the quickest time and the highest price. See an example of some of our virtual tour marketing here.

Certifications and Recognitions

Since real estate negotiations include many different people and issues, it is always in your best interest to hire an agent specifically trained to handle the complexities associated with this negotiation process. As a foreclosure listing agent for some of the top banks I would handle up to 20 listings a month overseeing everything from eviction, field asset management from clean out to make ready. Most listings would yield 10+ multiple offers to which each one was vetted and presented to the seller.
Recognized in the Dallas Morning News and multiple featured guest segments on the local radio network.
As an agent who carries the CNE designation I've been trained in professional negotiation tactics by the Real Estate Negotiation Institute, the leading negotiation training and coaching company for real estate professionals. As a CNE professional I know how to use leading edge negotiation strategies and techniques for your benefit.
I've received my accredited buyer representative designation which allows me to give buyers much more knowledge on the home buying process also benefiting my sellers in knowing all the different options buyers have in today's market. Additional education in performing Scientific Market Analysis. My degree is in Arts & Science plus Business classes both at Brookhaven and TWU. I have extra classes in mortgage to add a well rounded service to my clients.

One of my most helpful designations for my sellers is my Accredited Staging Professional certificate. This is a free service I provide my sellers.

Staged homes sell faster and for more money! See some before and after photos here.

Personal:
I've lived in the DFW my entire life and have three wonderful kids. My spouse is Chris Duffy Net branch owner with Supreme Lending which definitely gives me more insight to the residential lending world and a sounding board for all things related to financing! I practiced as a Registered Nurse at Parkland hospital and home health many moons ago. That experience layed a great teaching foundation for my real estate career and bonus if anyone goes into labor or has a emergency while looking at houses I'll know what to do :)

I enjoy helping families throughout the entire process of finding a house and making it a home or selling to get the most money in the least amount of time and most of all the least amount of stress!


BUYERS!
We have a common goal: Making you a homeowner. Let's make it happen!
Ensuring you exceptional service at every step of your home buying process. Checkout our Step 1 video!


Search listings from the convenience of your home or take me with you with your own mobile app.
Be the first to get new listings that match your criteria.
Get real estate market watch updates for listings in your area.
"For Buyers" - Your source for the latest tips, checklists and free reports.
Personal Consultation - Vast experience and knowledge you can rely on.
Financial advice - Loans, Mortgages, interest and tax benefits.
Community information and Utilities.


SELLERS!
Allow me to list your home and I'll use home staging strategies designed to sell your home fast and for more money because you don't get a second chance to make a first impression.
As real estate specialist, I know what it takes to sell your home. I bring expert knowledge, valuable experience blended with the latest technology, a well-defined marketing plan, a cohesive network, energy, enthusiasm and the excitement of a job well done.



Search homes sold in your neighborhood in the last year to start getting a feel of your neighborhoods values.
Detailed Home Evaluation Report and advice on the best price to list your home.
Vast exposure to your listing.
Virtual tours to distinguish your listing.
"For Sellers" - Your source for the latest tips, checklists and free reports.
Personal Consultation - Vast experience and knowledge you can rely on.
Relocating - Everything you need to know about the neighborhood and transferring utilities.

If you are planning to place your home on the market, browse my website for valuable information on preparing your home for sale, pricing your home right, marketing it effectively and the home inspection processes.

I am passionate about my job, love my neighborhood and keep up with the latest trends and strategies so that I can pass them on to my clients.



Your satisfaction is my success!



















Save Alicia's Contact into Outlook
here