Highland ISD, Carroll ISD and Lovejoy ISD are ranked as the top three school districts in this 2017 best school districts in Dallas Fort Worth analysis. These three districts had the highest 2016 district student achievement indexes of the 98 Dallas area school districts evaluated and also were the only districts distinguished by all of their campuses attaining student achievement indexes of 90 and above. Complete Best DFW best school districts rankings for all 98 districts and the metrics on which the rankings are based are presented below.
The Texas Education Agency (TEA) refers to the percentage of total State of Texas Assessments of Academic Readiness (STAAR) for all subjects that met or exceeded TEA achievement standards as the student achievement index. The college readiness index used in this analysis was based on participation in and successful completion of high school Advanced Placement (AP) and International Baccalaureate (IB) courses and and performance on SAT and ACT college admission tests. A more detailed description of how this best DFW school districts ranking was produced is provided in the Methodology section at the bottom of this page.
Accountability ratings awarded by the TEA in 2016 were not considered in this analysis since all districts included in the study received Met Standard ratings. Also not considered were factors that generally have no meaningful linkage to the learning success of individual students, such as graduation rates and changes in student performance on the STAAR evaluations from one year to the next, and subjective factors sometimes relied upon in other published rankings, such as opinions of self-selected and anonymous parent and student review contributors and "expert insights" regarding teacher quality.
Top 25 Dallas area school districts
Best DFW best school districts rankings
Methodology
Within each evaluation category, the top ranked school district was awarded the maximum points allocated to that category and all other districts were awarded a proportional number of points based on how their individual scores compared to the score of the top ranked district. Scores from both evaluation categories were then added together to arrive at the district's total ranking score.
Performance on STAAR tests: 60 points
A maximum of 60 points was awarded based on the percentage of a district's students meeting the TEA's achievement standards on the STAAR reading, writing, mathematics, science, and social studies subject assessments. As mentioned above, the TEA refers to the percentage of total number of student assessments for all subjects tested that met or exceeded its achievement standards for campuses and districts as their student achievement indexes.
College readiness indicators: 40 points
A maximum of 20 points was awarded based on percentage of students in grades 11-12 participating and successfully completing AP/IB courses. The district with the highest percentage of students taking and passing College Board AP examinations or IB examinations in English language arts, mathematics, science and social studies was awarded the maximum points for each subject area category. A maximum of 20 points also was awarded to the district with the highest adjusted SAT and ACT scores (percentage of seniors taking SAT and/or ACT college entrance exams times median subject area test scores). The college readiness index for each district was calculated by aggregating the scores for all high schools in the district, weighted by the number of students attending each school. For this particular analysis, the maximum college readiness score attainable by a high school was 100 points.
Search Specific Schools



Search Homes by School Rank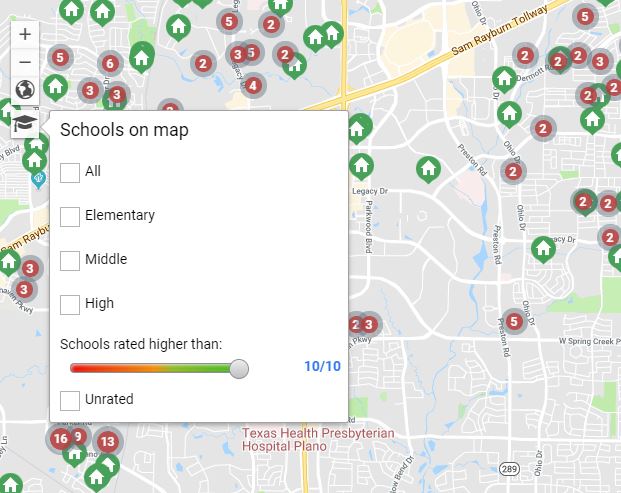 ---
We love the site Around Town Kids! Here's a link to their book and app!

Welcome to Around Town Kids
Your ONE STOP SHOP for Things to Do in Dallas Fort Worth AroundTownKids is DFW's Original, Favorite & Most Popular Online Parent Resource Guide and Kids Event Calendar!
Find more Things to Do with your children and have fun educating them at the same time with our book, Kidding Around Town.
Dallas Fort Worth and Frisco's Favorite Online Source for Fun Activities, Events and More including the MOST Comprehensive List of Kids' Events in Frisco & the DFW metroplex since 2004.
AroundTownKids offers event coverage of the entire DFW metroplex for Dallas Kids Events and Ft Worth Kids Events. AroundTownKids Frisco also serves the area immediately surrounding Frisco, Texas and the greater Dallas Fort Worth area including McKinney, Plano, Allen, The Colony, Little Elm, and Prosper, Anna, Melissa, Lucas, Celina Prosper etc. Kids Events are included for Dallas Kids & Fort Worth Kids ON OUR KIDS EVENT CALENDAR.