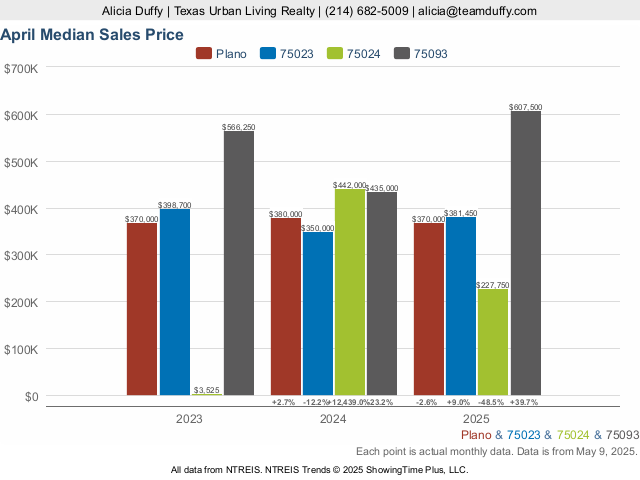 Take up residence in Plano and you'll always be satisfied with your decision. Plano real estate varies greatly within the 71 square miles that make up the City of Excellence.
Plano has consistently been ranked among the best, wealthiest and safest cities in the United States by esteemed magazines including Forbes and Money. The Texas Certified Scenic City boasts multiple parks and preserves with hiking and biking trails, playgrounds and athletic fields where families enjoy spending quality recreational time together. The city features six libraries that offer programming for toddlers through seniors. Annual events include the Plano Balloon Festival and Plano International Festival.
Retail, restaurants and relaxation are abundant in this city, which has all you need to live comfortably and, as a bonus, the city of Dallas with all of its amenities is only about 30 minutes away. The Shops at Willow Bend is just one of several upscale centers in Plano that will help you and your family stay in fashion, in shape and in touch. The Shops at Legacy is a mixed-use destination with boutique retail stores, more than eight acres of parks and trails, urban-style homes and a full-service hotel. Everything from five-star restaurants to family-friendly fast-food is within a short drive from your Plano real estate acquisitions. The area is served by DART's Red and Orange light rail lines in Plano, making transportation to sporting events, downtown conventions or theater entertainment a breeze.
Annual Events Calendar
Plano Independent School District takes you to PISD social media links, news, menu, directory & ratings.

PISD serves most of the school-aged children who live in the city. Go to PISDPISD district includes 70 public institutions with a unique high school system where teens in grades nine and 10 attend a high school and grades 11-12 a senior high. There are also 16 private schools that educate Plano children. Two campuses for Collin College and a branch of Southern Methodist University are available for higher education.
The city is home to some of the finest healthcare facilities in the United States, with specialized care for hearts, backs and pediatrics. The Heart Hospital Baylor Plano, Texas Back Institute Plano and Children's Medical Center at Legacy Texas are among the hospitals and centers within city limits.
J.C. Penney, Pizza Hut, Cinemark Theatres, Frito-Lay and Dr. Pepper Snapple Group are among the companies that have corporate headquarters in Plano. The city is mostly in Collin County and has a population of nearly 270,000.



SEARCH HOMES IN PLANO
About Plano Texas
Looking for a thriving economy, award-winning schools, outstanding libraries, spacious parkland, internationally-recognized accredited Police and Fire Departments, easy access to four airports, a municipal government willing to partner with business for success? Look no further!
Located just 20 miles north of Dallas, Plano is a city of lifestyle, environmental initiatives and economic development. It is a wealthy northern suburb of Dallas, among the 70th most populous cities in the U.S.
Plano is within the Dallas–Fort Worth–Arlington metropolitan area, locally referred to as the Metroplex.
Search all homes in DFW area direct from the MLS
The city is home to many corporate headquarters, including Ericsson Inc, Rent-A-Center, Crossmark, Perot Systems, Electronic Data Systems, JC Penney, Frito-Lay, Cinemark Theatres, Dr. Pepper and UGS.

Plano remains the only City in Texas to hold an "AAA" Bond Rating by three of the nation's top bond rating companies, attesting to its strong tax base and financial management. Attracting and retaining some of the nation's top Corporate 500 companies and the best small businesses in the region has become the "norm."
In addition, The United States Census Bureau declared Plano the wealthiest city of 2008 by comparing the median household income for all U.S. cities whose populations were greater than 250,000. See chart link below for all the demographics in your own neighborhood from city data icluding
City Guides, Tourist Attractions, Sex Offender List. Go to Interactive map to view neighborhoods by category you choose (income, children, race etc).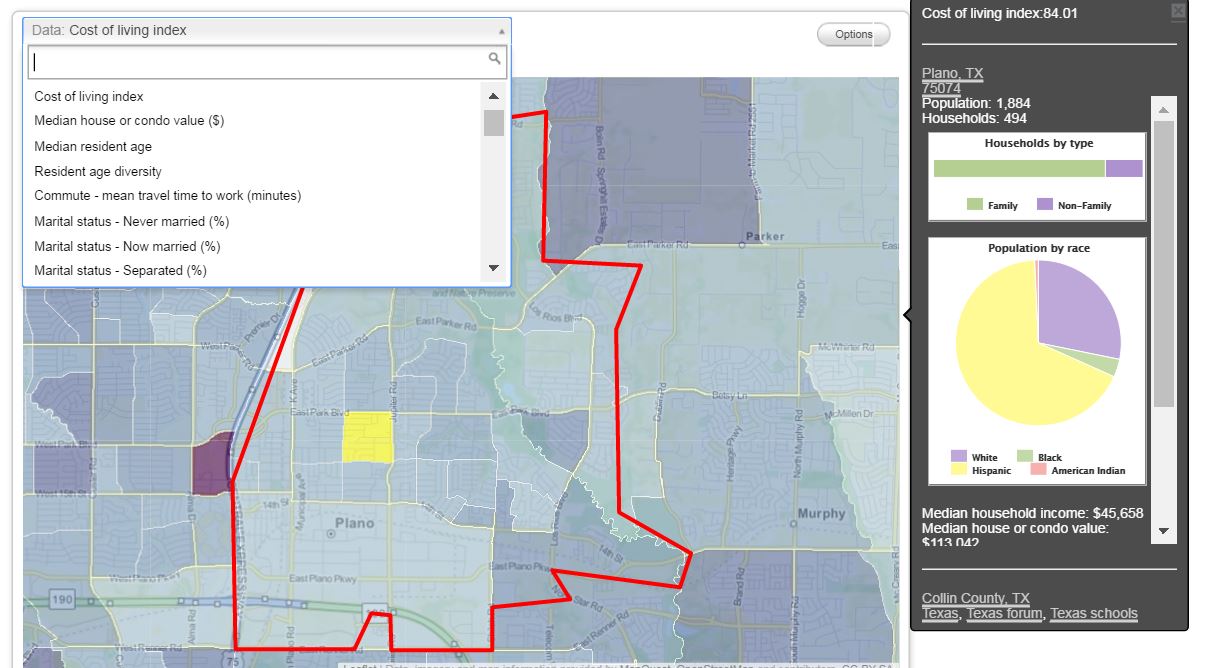 Plano has been designated as one of the best places to live,in the Western U.S.[ once, the best, 2nd the 11th best].
With no less than four property tax decreases, Plano has a current property tax rate of 45.35 cents per $100 valuation standing strong to enable funding of all existing and new services and programs. Plano is the only city in Collin County offering its residents a 20% Homestead Exemption, and up to $40,000 Disability or Over 65 exemptions. In May 2004, City Council approved a property tax freeze for homeowners over the age of 65, their spouses and the disability.


Other major factors in Plano's popularity; A major transportation system supported by four major arteries, DART rail and bus service, easy access to four airports.
A Police Department that has been Internationally Accredited, carrying one of the lowest crime rates for Texas; Class 1 ISO-rated Fire Department Accredited in both fire and emergency medical services. Plano also has the Accredited Parks and Recreation Department, three-time recipient of the national Gold Medal for Excellence and Tree City USA designations. 80 park sites, 40 miles of recreational trails, two municipal golf courses, six recreation centers, a Senior Center, five swimming pools, outstanding athletic and tennis facilities, 86,400 square foot full-service convention center.
A comprehensive Plano Public Library System comprised of five full-service public libraries with public internet access and over 2.5 million checkouts; an award-winning public school system boasting three high school campuses, two community college campuses, four other institutes of higher learning










Market Trends by City: Demographics, school, market trends plus compare areas.





Hot Spots

Ethnic festivals, arts and crafts fairs, exciting theatre, sporting events and much more are included in the calendar of events. Use these easy search boxes below to find the local happenings.

Visit Plano Site By Category




Just for fun

Click on maps to go to the city of Plano trail information pages

Recreational trails for walking, running and cycling in Plano, Texas

We love the site Around Town Kids!
Here's a link to their book and app!


Around Town Kids Things to Do in Dallas Fort Worth
Most Popular Online Parent Resource Guide and Kids Event Calendar!

Staging Before and After Photos
Alicia stages every home she puts on the market for sale. Becoming an accredited staging professional saves her clients that added expense. Even if your home is vacant it can be virtually staged ... continue reading for more photos.









Learn More...

Learn more about Grandscape - Fact Sheet

Search plano HOA. View more

Plano calendar all events View more,





What county is Plano Texas in? Collin County

---

Detailed article on how to a file protest on your property tax value here.

---

Property Tax Information
Collin Central Appraisal District

250 Eldorado Pkwy

McKinney, Texas 75069

(469) 742-9200

(866) 467-1110 (toll-free)

New Home Owner Homestead Exemption (file by April 30th)

File Homestead Exemption Online View more

What are the rates and exemptions? View more

Collin County How To Protest Value: Deadline is May 31 2018

If you have received your tax valuation and it's blue look in the top right corner for your e-file pin this will allow you to protest online. Otherwise, you'll need to either mail or file in person. If you have been receiving our Your Neighborhood yearly updates you will already have all the sold comparable prices you need to take with you. If you haven't enrolled click link to the left to sign up then contact Alicia to get last year's sold comparable homes sent to you! We're here to help you not just buy and sell but with everything related to home ownership!

Search other counties: www.collincad.org/...

How is your property appraised?

View more

Detailed article on how to a file protest on your property tax value here.

---

See Builder Searches and Rebate Card Below




Subdivision Information go to home page under Your Neighborhood

The Star in Frisco